It's official: wedding planning has swallowed me whole. Turns out, planning a wedding in under five months from more than 3,000 miles away is CRAZY. Go figure! People keep asking me bizarre questions like "What are your colors?" (what the heck? why can't I have all the colors?), and "What's your signature drink?", and "What kinds of favors are you doing?", and up until now I've had no answers to any of these questions. There's just so many logistical moving parts to organize that, until this week, I haven't even thought about any of the fun wedding things like flowers or sparklers. But all of the big things are locked down at this point, so I'm finally allowing myself to use Pinterest again, and I've begun to think about how I want this party to look and feel beyond "well, there should be chairs." So I thought I'd share some of the exciting details that are starting to fall into place.
I stole this picture from Pioneer Woman, who bought these chalkboard placemats, but my wonderful father is actually making eighty of these babies for all the tables. Aren't they so sweet? I think my parents have caught the DIY bug, because my mom is going to spray paint a little pig onto each place mat to match our adorable save the dates:
Aren't they perfect? They were designed by an extremely talented and sweet friend of a friend, and they make me smile every time I look at them.
These are the pretty farm tables we're renting for dinner. I'm going to do all the flowers myself, with some helping hands, with this as the guiding inspiration (only with waaay more flowers):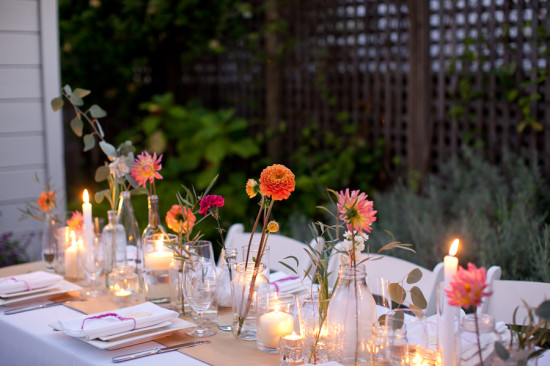 That's all for now, more updates to come!
All images linked to their sources. Special thanks to Danielle Young for her amazing Save the Date design.