When I was a little kid, my favorite movie was Beauty and the Beast. I could quote the entire movie from beginning to end, but my favorite part was when Beast gives Belle the library. When she opens her eyes and sees all the books she has never read, and all the books she will re-read, sprawling out before her. And I knew at that moment that that was true love. When somebody gave you a library. I wish I could say my expectations have changed since then, but I was very impressionable. So as I make my schemes and dreams for my purple home, there's one thing I know my house will have…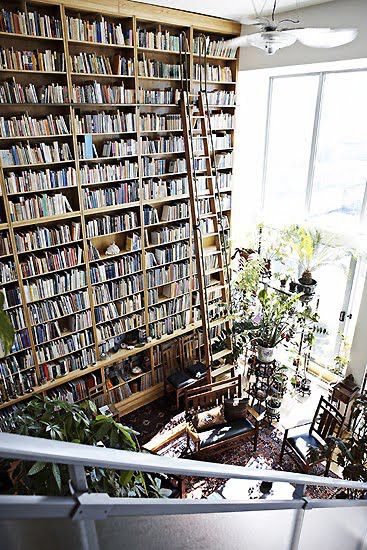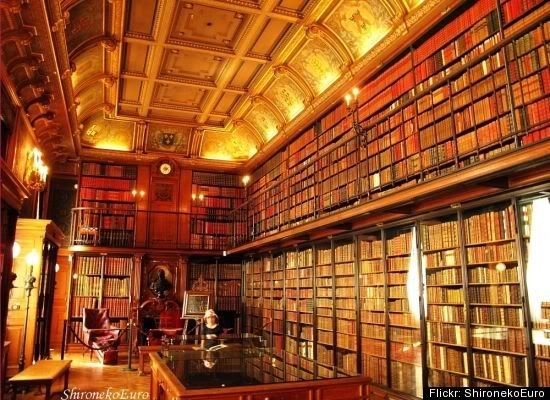 I can't decide if my library should be a quiet and crowded nook, with sloppy stacks so high that they loom overhead and sagging armchairs, or something more baroque and ornate, with shelves and shelves stretching way up into the stratosphere so that every time I walk in I am overwhelmed by the number of words that are in my possession. Either way, it's going to need one of those rolling ladders.
As a kid, I loved Beauty and the Beast because Belle was so like me. She was a little awkward, a little lonely, and she never went anywhere without a book. Back then, I used to keep ten books stuffed underneath my mattress for easy access when I couldn't sleep at night. I always brought a book with me when I went out to dinner, and my nose would remain stuck inside until the food arrived. In fact, it was always a big deal when my grandparents came to town because I wasn't allowed to read books at the dinner table, which inevitably led to sulking. Lending books was my greatest joy back then, and I was forever making recommendations to friends. My mother had to constantly remind me, "We are not a library!" But I didn't care.
By the time I went to college, nothing had changed. I was the girl with the books. The girl you asked for a suggestion or a borrowed copy. Huge stacks of them on the floor, arranged in no particular order with Dahl and Nabokov and Lovecraft and Austen and Rand all rubbing shoulders. They teetered precariously on uneven piles, and occasionally they would give way and crash to the floor, waking me in the middle of the night. The stacks grew taller each year, much to the chagrin of both my father and The Boy, who were inevitably charged with moving my collection in and out of the dorm room each year. When I moved, I had to leave most of my books with my parents because there were just too many to ship. They're collecting dust in my basement as we speak, but one day they'll have a home.
For more home inspiration, check out my Pinterest!
Images linked to sources. And yes, the fifth one done is from Harry Potter.